Kirsty joined the Artemis BJJ women's class in late March, as a complete beginner. She swiftly progressed to the mixed class, then motivated a group of students from the club to join her at a competition. After only three months of training, she won a bronze medal.
It's been fantastic to watch her develop over that time. Kirsty is always smiling and laughing, meaning that a class with Kirsty is guaranteed to be a fun class! She kindly offered to share her thoughts on what the women's class and training at Artemis BJJ has meant to her so far.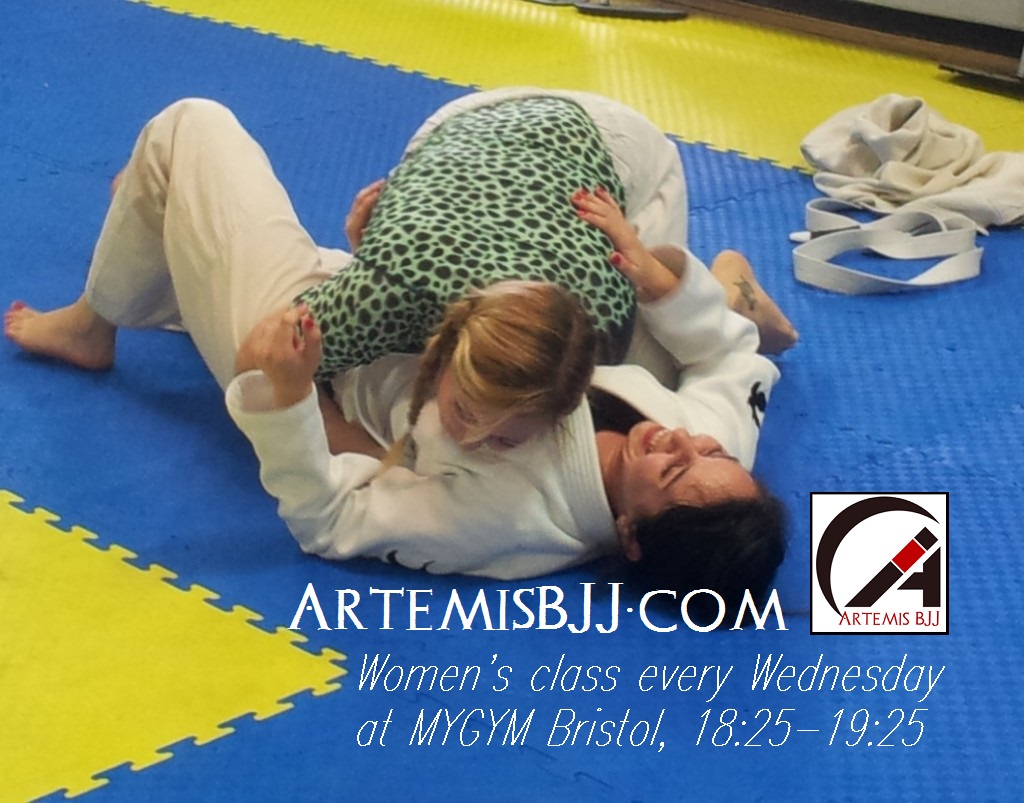 I have never really done any martial arts before, but when I moved to Bristol from Swansea I was interested in taking up a new hobby. I was lucky enough to find the women's only class at Artemis BJJ, as the thought of walking into a room full of big scary men was very intimidating for me.
I went to my first class, it was a small class and Can was so helpful on making sure I got the technique just right. I walked away thinking how great that was. After a two week holiday to Thailand I was quite jet lagged, so there were 3 weeks off between my sessions. At this point I was worried about how much stuff I might have missed and I am still so new, so I actually doubted coming back.
I pushed myself to go again, and it was definitely the best decision! The classes run on a cycle so you will catch up on everything that you miss, which made me feel so much better. I remember chatting with the women in class, enjoying the atmosphere and felt confident enough to jump straight into the mixed class, even after just one women's class!
Everyone is different and the purpose of the women's class is to learn the basics to feel comfortable in the mixed, but I jumped straight in. Since then, it has been a whirlwind of excitement, achievement, learning and enjoyment. I am completely hooked and have made some beautiful and true friends as everyone is so friendly at Artemis BJJ. You will always find someone to chat to and help you with whatever you need!
The best part about it all for me is that I've struggled with my body image ever since I can remember. Brazilian jiu jitsu has given me some confidence, raised my self esteem and now I feel I have really overcome a lot of issues that have held me down for so long. Also, I have lost weight and my overall fitness has improved so much, I am leaner, stronger and most of all happy with myself.
I have been training 3-4 times a week since April, and my progress has been great. Having the right people behind you, pushing you, ultimately helps you achieve your maximum potential. Competitions can be a big part of Brazilian Jiu Jitsu if you want them to be, but they aren't compulsory. However, I wanted to give it a go!
So on July 5th, after being supported by my team at Artemis, I competed and brought home a bronze medal, which is the first medal for the club and I feel so empowered as a woman. Competition isn't for everyone but it is exciting to see your team mates develop and compete regardless!
[You can watch Kirsty's medal winning match
here
]
In the space of three months, I have started training 3-4 times a week, I have grown emotionally, lost weight, developed a skill very good for self defence and have a bronze medal! Finding Brazilian jiu jitsu has been the best thing I've done in years!
The women's class is a year old this month: come and join us! Your first week at Artemis BJJ is completely free, with access to all our classes. So, you have nothing to lose and everything to gain. For more testimonials, click here.
Update September 2015: On a training course at her job, Kirsty had a video editing project. She produced this cool little video about what BJJ has meant to her.