We offer Brazilian jiu jitsu classes from central Bristol, just off Lawrence Hill roundabout. We also have classes available at the The Exercise Club in Clifton on Whiteladies Road. Full details below.
Artemis BJJ (Central)
7 Easton Road,
Bristol,
BS5 0BY
We are located on Easton Road, next to LA Gym. If you are outside the Depot Bar, you're on the wrong side (so, continue walking around the block). The entrance is through the door with a big X above it. Head up two flights of stairs to find us.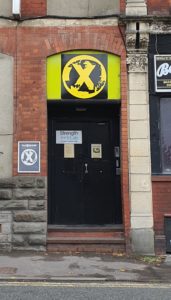 Be aware that the main entrance may be shut during the daytime. Therefore if you're new, be sure to arrive before class starts, so you can wait for people to arrive and let you in.

Alternatively,  contact us to be let inside (members are given the code). Once inside, head up the stairs, to the second floor, then through the door labelled Artemis BJJ (be sure not to step on the mats).  There is a shower in a separate room, along with changing room space and toilets. If you would like to bring your bike inside, there is space by the mats (though you'll need to carry your bike up quite a few steps). There is also a bus stop right outside, on the opposite side of the street.
Artemis BJJ (Clifton)
The Exercise Club,
213 Whiteladies Rd,
Bristol,
BS8 2XS
Our venue in Clifton is The Exercise Club. There are changing rooms and showers, with a spacious upstairs studio in a converted church. Clifton Down train station is a 10 minute walk on foot, down the hill.
The front door is locked in the evenings, meaning entrance to our classes is around to the right of the main door, in a small alley at the side. It is keypad entry and the code is not given out to non-members. Therefore if you're new, be sure to arrive before class starts, so you can wait for people to arrive and let you in.
__________________________________________________________________
Artemis BJJ (Knowle)
Knowle West Healthy Living Centre,
Downton Rd,
Bristol,
BS4 1WH
Our classes in Knowle West are run by Adrienne in the dance studio (she also runs a class in Bedminster on Fridays, as well as mobile sessions). These are specifically designed for trauma survivors, with the goal of building your confidence from the ground up. Please contact Adrienne for more information and to book a class, head to her website, here.

View Locations in a larger map
Finding Our BJJ Classes
If you're still having trouble finding us, please feel free to email info@artemisbjj.com, or call on 07740 197 319.
If you'd like more information about Brazilian jiu jitsu, what to wear to your first class, how much we charge and other common questions, check out the Frequently Asked Questions section. We look forward to welcoming you onto the mats soon!