All our instructors are fully vaccinated against covid.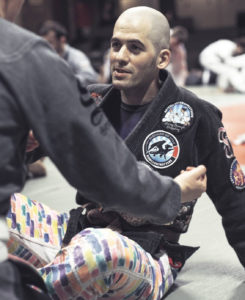 Can (pronounced 'Jun') has been training in martial arts since 1994, starting BJJ in 2006 at the Roger Gracie Academy HQ in London. He first became a BJJ instructor in 2011 and is a black belt under Kev Capel (a Roger Gracie black belt), as well as a qualified First Aider. Can later moved to Bristol, but continues to return to the Roger Gracie Academy Buckinghamshire to progress his training with Kev.
Drawing on his academic background, Can takes a learning-focused approach to BJJ. He strongly believes in delivering lessons paced to ensure everyone can become confident before they move on. To assist students, everything is written up in full on his website, providing detailed reference material.
Can is also a well-known journalist and blogger in the Brazilian jiu jitsu community, writing regularly for Jiu Jitsu Style, Matside and GroundWork, along with running his popular BJJ resources website, slideyfoot.com.
Can is particularly proud of his charity work: his GrappleThon events have raised thousands of pounds for good causes, something he has sought to expand via GrappleThon.org. That website has since helped others to pursue their own charitable efforts, with events in the USA, Germany and Belgium, among other countries.
Emma started kickboxing in 2005 (reaching 2nd degree black belt), until she had to stop due to a work related injury. In 2017, she found that BJJ enabled her to work around that injury: she later earned her blue belt from John Smallios and Phil Grapsas (Pedro Sauer lineage).
Emma began teaching women's and kids classes around 2018. A year or two later, she joined us at Artemis BJJ, then started teaching our women only class in 2020. Her focus is on technique and safety, to enable her students to have fun training together for years to come. Outside of BJJ, Emma is a qualified optometrist and a lecturer at UWE. She's also a keen cold water swimmer, which she recommends for stress relief! 😉
Tracey has been training at Artemis BJJ since 2014, where she is currently a blue belt. She was one of the original women's class students, having been involved since the beginning. Tracey runs our kids class, which her younger son also attends. She is also our Child Protection Officer.
A keen artist, she is building a reputation with her tacerob brand, focusing on grappling illustrations. She is a sponsor and core fundraiser at the annual Artemis BJJ GrappleThons.
Weronika began her BJJ training in 2014 at Icon BJJ, where she received her blue belt from Ze Marcello. She earned her purple belt from Can in May 2023.
Weronika is in charge of Fridays at Clifton, also helping to cover other classes as necessary. Outside of BJJ, Weronika is a big fan of video games and live music. She also loves cats, like the furry friend in the picture on the left, who she met back in her native Poland.
Vicky began training at Artemis BJJ in 2019, where she is currently a blue belt under Can. She is part of the women's class instructor team, as well as helping out with the kids class on Sundays. A TV editor by trade, Vicky is also a dog-loving vegan punk drummer, who as she puts it likes to "basically do all the things all the time: grab life by the horns and try everything twice!"
Photo credits: Morgane Gielen, Tracey Robinson and others