In addition to our central location at Bristol Sports Centre near Cabot Circus, we can now offer BJJ in Kingswood at PHNX Fitness. Classes are Thursdays from 20:00-21:15, with an open mat on Saturdays from 10:00-12:00. For our full timetable, head over to the Classes page on this website. Remember, your first week is free, so we look forward to welcoming you onto the mats soon!
Artemis BJJ (East Bristol)
PHNX Fitness
Unit 7, Two Mile Hill Commercial Centre,
217-227 Two Mile Hill Road,
Kingswood,
Bristol, BS15 1AZ

View Locations in a larger map
If you would like some further details in addition to that map, hopefully the pictures and directions below will help (you can click on the pictures to make them bigger).
Once you are on Two Mile Hill Road, you're looking for the Two Mile Hill Commercial Centre: we're located in Unit 7, PHNX Fitness.
If you're coming up the hill, you'll see a big sign that says 'Two Mile Hill Commercial Centre', just after the AutoFit garage. There is a PHNX Fitness sign on the corner of the wall in front of it.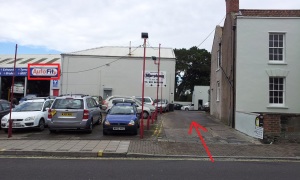 Turn in to the small road,  next to the AutoFit garage. You'll normally see a number of parked cars in the distance, along with several car repair garages. Keep on going down that small side road, then turn left at the end.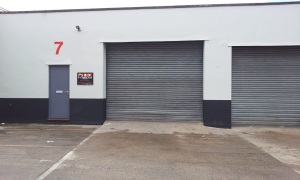 If you continue on a short distance, you should then see Unit 7 in front of you, with a PHNX Fitness sign by the door. If you're arriving in the dark, there is a security light that comes on when you're directly outside, but be aware that the approach may not be as well lit until you reach Unit 7.
If you're coming down the hill on Two Mile Hill Road, look out for the shop on the right offering 'Foam Cut To Size' and The Nylon Shop next to that. We can be found down the turning on the right immediately afterwards, between the AutoFit garage and The Nylon Shop.
If you have any questions, please don't hesitate to email us at info@artemisbjj.com. You can also get in touch via our Facebook page, or you can call on 07740 197 319