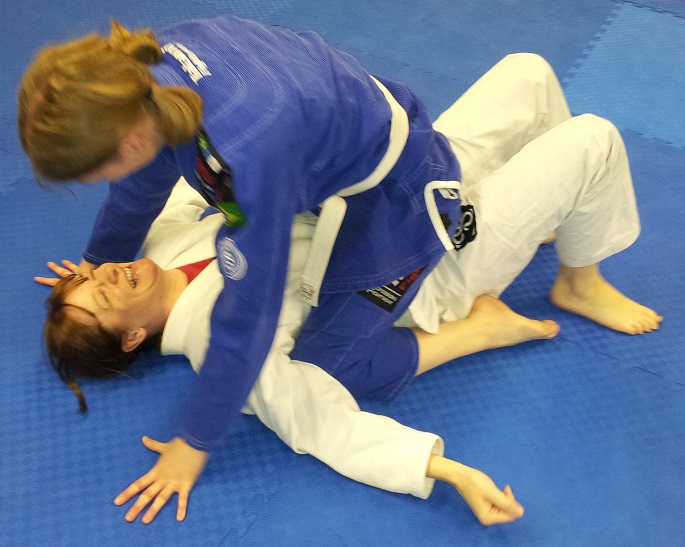 A Bristol martial arts club spent 2014 investing in their belief that BJJ is the ideal martial art for women. To encourage more women to take up the sport, Artemis BJJ ran free women's BJJ classes at MyGym in St Pauls, starting in the summer and finishing on 31 December, to build a community of female martial artists in Bristol.
"Running this class has proven that you can go from being nervous of martial arts, to grappling confidently with a complete stranger," says Can Sönmez, instructor. Around forty women tried out the martial art and many stayed on to develop their skills.
"I've made some new friends and my confidence is improving," says Tracey, a regular at the 2014 class. "It's fun, absorbing and quite addictive!"
Brazilian Jiu Jitsu is perfect for women not only because it is skill-based and allows someone of smaller stature to triumph, but also because it has a friendly and supportive training environment. The Artemis BJJ club also has a strong community focus. "People make friends, bring their children, bring their partners, try out the mixed class – it's a great way to meet others in the local area," adds Can.
It has been shown that BJJ can help combat depression, low self-esteem and other mental issues as a form of sport therapy. Elena Stowell's book Flowing with the Go, which has been translated into several languages, details how Brazilian Jiu Jitsu helped her deal with her grief over the sudden death of her daughter.
As well as investing in creating a more diverse BJJ community in Bristol, with a better gender balance, Artemis BJJ also contributes to the community by holding annual 'GrappleThons', which raise thousands of pounds for charity.
In 2014 the 24-hour 'GrappleThon' raised around £5,000 for Kinergy, a Bristol charity providing counselling to rape survivors. The 2015 event will take place on International Women's Day in March and raise funds for Equality Now. "Our annual GrappleThons are one of the many ways in which Artemis BJJ proves its dedication to equality and gives back to the Bristol community," says Can.
With 68,800 women in Bristol predicted to encounter domestic violence in their lifetime[1], it is more important than ever for women to learn effective techniques that may be useful for self defence.
"Originally, I didn't like the idea of martial arts because I thought I would just embarrass myself by getting hurt and crying, but I wanted to learn some self defence. As a woman, if you are attacked in the street they're usually after one of two things, if they're after your valuables, just give them to them, no iPhone is worth your life. If they're after the second you need to know how to defend yourself on the ground," says Pippa Granger, an experienced grappler who took part in the 2014 GrappleThon.
The women's BJJ classes take place at MyGym in St Paul's, every Wednesday from 6.30pm to 7.30pm. All women are welcome. See www.artemisbjj.com/women for details.
________
[1] Cutting Women Out, Bristol Fawcett Society, p7 [retrieved from http://www.bristolfawcett.org.uk/Documents/Economy/BristolCuttingWomenOut.pdf, 20:00 01/06/2015]