All our instructors are fully vaccinated against covid.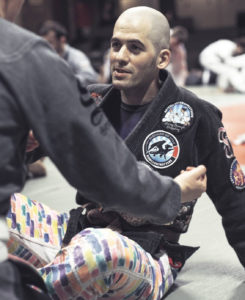 Can (pronounced 'Jun') has been training in martial arts since 1994, starting BJJ in 2006 at the Roger Gracie Academy. He first became a BJJ instructor in 2011 and is currently a brown belt under Kev Capel (a Roger Gracie black belt), as well as a qualified First Aider.
Drawing on his academic background, Can takes a learning-focused approach to BJJ. He strongly believes in delivering lessons paced to ensure everyone can become confident before they move on. To assist students, everything is written up in full on his website, providing detailed reference material.
Can is also a well-known journalist and blogger in the Brazilian jiu jitsu community, writing regularly for Jiu Jitsu Style, Matside and GroundWork, along with running his popular BJJ resources website, slideyfoot.com.
Can is particularly proud of his charity work: his GrappleThon events have raised thousands of pounds for good causes, something he has sought to expand via GrappleThon.org. That website has since helped others to pursue their own charitable efforts, with events in the USA, Germany and Belgium, among other countries.
Emma started kickboxing in 2005 (reaching 2nd degree black belt), until she had to stop due to a work related injury. In 2017, she found that BJJ enabled her to work around that injury: she later earned her blue belt from John Smallios and Phil Grapsas (Pedro Sauer lineage).
Emma began teaching women's and kids classes around 2018. A year or two later, she joined us at Artemis BJJ, then started teaching our women only class in 2020. Her focus is on technique and safety, to enable her students to have fun training together for years to come. Outside of BJJ, Emma is a qualified optometrist and a lecturer at UWE. She's also a keen cold water swimmer, which she recommends for stress relief! 😉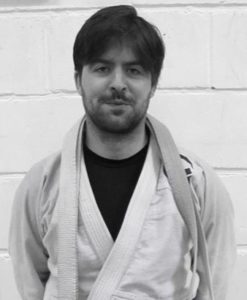 Matt J first stepped on the mats back in 2007. He trained for two years before emigrating to America with his family. Although he later returned to England, he did not return to jiu jitsu for many years,  believing that it was primarily for athletically gifted people.
In 2014, he decided to try again, seeking a less competitive environment for training. He found it at Artemis BJJ, as one of our first students. Matt has trained diligently ever since, earning his well deserved purple belt from Kev Capel and Can. Matt is the BJJ instructor for our Thursday class in Clifton, plus covering classes when instructors are away. His other love is film, which he devours in all forms. Matt has also written two feature screenplays.
Tracey has been training at Artemis BJJ since 2014, where she is currently a blue belt. She was one of the original women's class students, having been involved since the beginning. Tracey runs our kids class, which her younger son also attends. She is also our Child Protection Officer.
A keen artist, she is building a reputation with her tacerob brand, focusing on grappling illustrations. She is a sponsor and core fundraiser at the annual Artemis BJJ GrappleThons. Tracey is also involved with Adaptive Martial Arts, an organisation which helps injured and disabled people to train BJJ.
Dónal started training BJJ in 2005 at Peter de Been's academy in Australia. He is currently a brown belt, occasionally dropping in to teach at Artemis BJJ.
Dónal is a familiar face on the BJJ tournament circuit, not only as a competitor but also as a respected referee. If you want to succeed in competition, then Dónal has the knowledge and experience to help you reach your goals.
Outside of BJJ, Dónal is a qualified counsellor registered with the British Association for Counselling and Psychotherapy: to find out more about his work in that area, go here.
Jade started her BJJ training at Artemis BJJ in 2016, where she is currently a blue belt under Kev and Can. She is part of the kids instructor team, as well as one of the women's class teachers.
Having been a competitive swimmer for 5 years at Greenwich Swimming Club, Jade already had a solid background in sport. She's also got creative skills to go with her athleticism: in 2012, Jade co-founded a film production company, Lonely Dreamers, housing her film projects, alongside working with educational charities.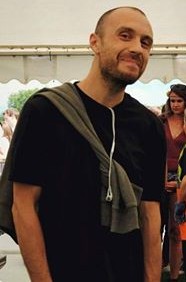 Greg started his grappling journey at Artemis BJJ in January 2017, where he is currently a blue belt. He's had a lifelong interest in martial arts, beginning with karate as a child, then a brief stint of Japanese jujitsu. That was followed by a longer commitment to muay thai, but after breaking his foot before his first amateur fight, Greg moved on.
The classic Gracie challenge matches and the Rickson documentary Choke sparked Greg's interest in BJJ. Off the mats, Greg is a keen musician. He sings, plays guitar and cajón (a type of drum from Peru). From Dublin, Greg originally trained to be a teacher, but now works as a chef. He's in charge of our Monday 18:30 session.
Photo credits: Morgane Gielen, Lisa Chappell, Tracey Robinson