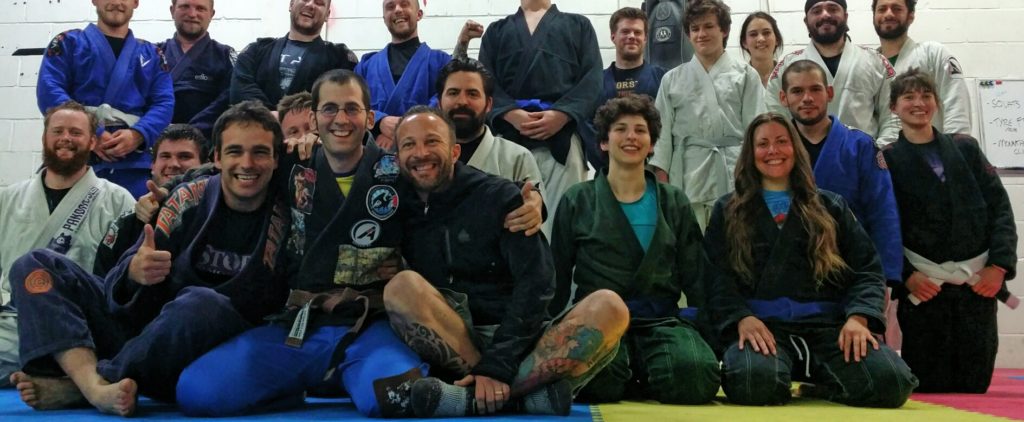 Can and many of the students at Artemis BJJ regularly attend BJJ Globetrotters Camps, particularly the large annual Summer Camp in Leuven, Belgium. That consists of an awesome week of training, with BJJ from 9am through to around 8pm. It's a fantastic experience and one Can would highly recommend.
Unfortunately, not everybody has the time to take a whole week off work to enjoy a spot of pyjama wrestling. Therefore, Artemis BJJ will be hosting mini-camps right here in Bristol to bring a taste of that experience closer to home. Our first attempt, mostly in an effort to test to see if this can work, will be held over the 25th-26th August at our Clifton location, The Exercise Club on 213 Whiteladies Road. Everybody is welcome, wherever you train.
There will be training on both Saturday and Sunday from 15:00 through to 19:00. We will have six black belts teaching us, including Seymour Yang (who runs the world famous Meerkatsu brand), world champions Chelsea Bainbridge-Donner and Tom Barlow, pioneering female grappler Gret Zoeller, plus Neil Owen (one of the most experienced black belts in the UK) and his student James Boyle (who runs a successful BJJ academy in Chesterfield). The schedule will be as follows:
Sat 25th Aug
15:00-15:10 Open Mat
15:10-16:10 Seymour Yang
16:10-16:25 Open Mat
16:25-17:25 Chelsea Bainbridge-Donner
17:25-17:40 Open Mat
17:40-18:40 Tom Barlow
18:40-19:00 Open Mat
Sun 26th Aug
15:00-15:20 Open Mat
15:20-16:20 Gret Zoeller
16:20-16:30 Open Mat
16:30-17:30 James Boyle
17:30-17:40 Open Mat
17:40-18:40 Neil Owen
18:40-19:00 Open Mat
Tickets are £50, which is non-refundable as the proceeds will be used to pay for the venue and the instructors. However, you can of course sell that ticket on if it turns out you can no longer make the event. Please contact info@artemisbjj.com if you would like to buy a ticket: there is a maximum of 30, so you'll need to be quick!